It might be asked as to why this art and cultural website is commemorating the passing of a man most closely identified with his many years as the major First Nations political figure of the north. With that in mind, I am appending below the appreciation written by his friend and fellow battler for the constitutional recognition of his people, Prof Marcia Langton, appearing in The Conversation.
But it's clear to me that Yunupiŋu had an equally vital cultural role. He knew that ceremony – whose public forms he shared with the world through the Garma Festival – was a key precursor to art, which only emerged on bark, larrikitj or canvas once the bilma (clapsticks), yidaki (didgeridoo) and manikay (sacred songs) had fallen silent. Then the dhulang (sacred designs) could appear with full meaning. This was never understood by the Blak functionaries of the south who defunded the Aboriginal Cultural Foundation, on whose board he sat, in the 90s, claiming that they had no duty to fund ceremony, which they dismissed as just initiation rites.
Yunupiŋu may not have the artistic reputation that 18 others with the same surname have on the Buku Larrnggay Art Centre lists, but I'm told that he did paint the album cover of Yothu Yindi's Homeland Movement record and, of course, he painted the bark artwork that he thrust on Bob Hawke in 1988 demanding  the right to veto mining and pastoral developments on native-title land – the Barunga Statement.
Also he made a single etching for Buku. And, Buku's Director Will Stubbs adds in admiration, he had a hit single in 1971 with Ted Egan, Gurindji Blues as well as writing some of Yothu Yindi's hits.
Over to Marcia Langton:
Aboriginal and Torres Strait Islander readers are advised this article contains names and images of deceased people. Yunupiŋu's family have given permission for his name and images to be used.
Dr Yunupiŋu was a magnificent person and a magnificent leader. Most people in Australia who are aware of him know him as a ceremonial leader because of his towering presence leading ceremonies at the Garma Festival for so many years and, most importantly, at events that he himself curated in order to make representations to prime ministers and ministers of Australian governments.
Throughout his life, he has spoken and made representations to every prime minister of his adulthood.
He was a great clan leader, a great family man and very much loved by so many Australians who came into contact with him through his Garma Festival and so many other good works.
Our mission is to share knowledge and inform decisions.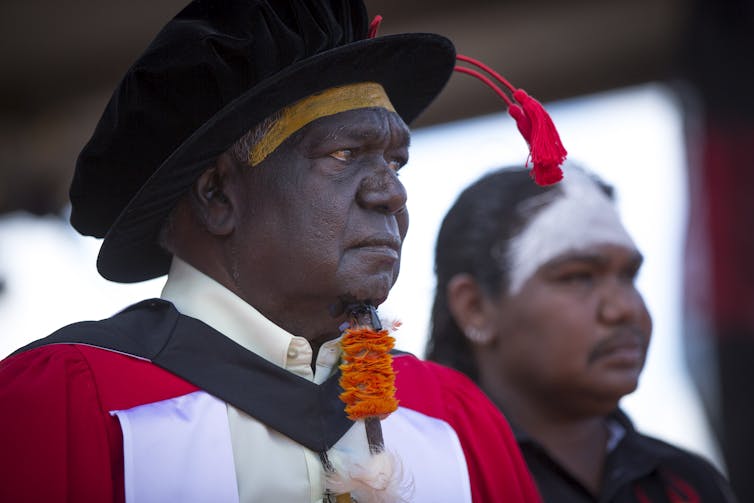 He was also an intellectual. He published some wonderful works, particularly Tradition, Truth and Tomorrow.
He was a musician, one of the most important traditional singers from Northeast Arnhem Land. Indeed, one could hear his beautiful voice on the Tribal Voice album, which his late younger brother's band Yothu Yindi made famous.
So many people will be in mourning for him. He touched so many people with his gracious leadership and kindness.
It's such a shame, really, that he didn't live to see better outcomes.
---
---
Working for land rights
Constitutional recognition for Indigenous Australians was his idea. I was with him in Arnhem Land and he said to me, "I want to see Noel Pearson". They'd never met, and he told me to find Noel and get him to come and speak to him.
So, in those days, I had to drive around and find a Telstra hotspot.
I found Noel. Noel jumped on a plane immediately and they met, and Yunupiŋu put to him constitutional recognition as a matter of highest importance. Because, as Yunupiŋu explains in his writings, he felt the existential threat towards his clan and other Indigenous people.
He was the interpreter for the clan leaders in the Aboriginal Land Rights Commission, appointed by Gough Whitlam to determine how land rights were to be recognised. He had been appointed by his father to become a clan leader and to go through the many years of learning that involved.
By interpreting for all the clan leaders and their evidence, he became extremely knowledgeable. He also interpreted in the court in Canberra in the Milirrpum case. Later, of course, when the Land Rights Act had passed and the land councils were established, he became Chair of the Northern Land Council and served in that position twice.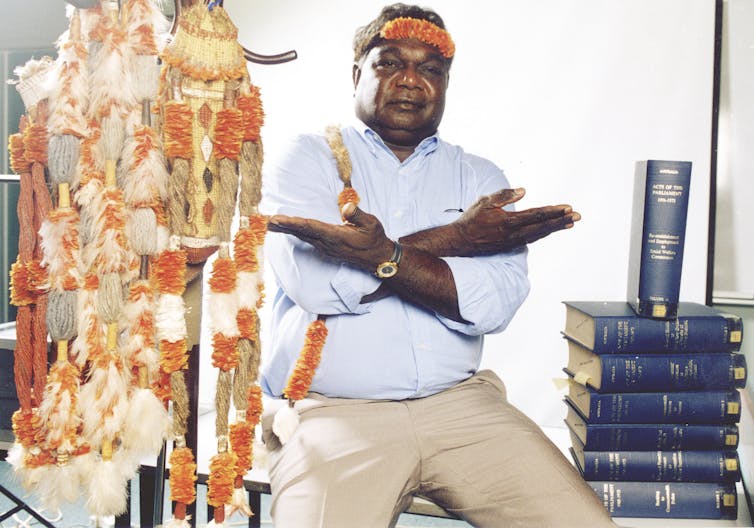 So, he is, in many ways, one of the crucial figures in the land rights movement. He was able to translate philosophical beliefs and the inherited ancient property systems of Yolŋu people to a very wonderful judge, Justice Woodward, to enable a land rights system to be legislated.
He also contributed to culture, the survival of Aboriginal culture, and to education. The Yothu Yindi Foundation press release on his passing explains how he initiated the Dhupuma Barker School in his community in Arnhem Land, which has been producing wonderful results with high attendance rates for the children.
He also led many other initiatives; too many to mention. People turned to him for advice because of his highly honed political and strategic skills.
A kind man
The great quality he had was kindness. He chose not to make people his enemy, unless they'd committed some egregious crime. He always attempted to find humanity in people. He was able to speak to every prime minister, as I've said, and encourage Indigenous leaders to set goals – such as constitutional recognition – and find a way to achieve it.
He pulled together the clans of Arnhemland and presented three petitions on constitutional recognition to prime ministers Julia Gillard and Kevin Rudd. He was very determined about this. He also gave some wonderful lectures on this topic.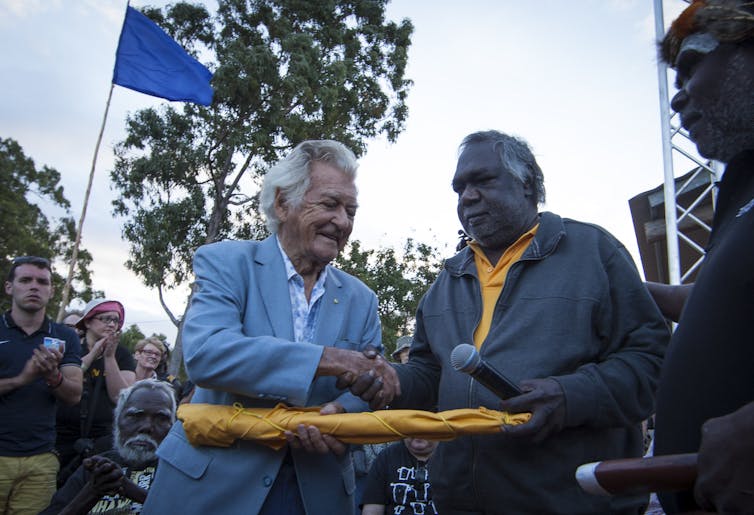 Many people have been inspired by him because he always found a way through the terrible burden of colonialism. Nobody suffered it more than people like himself.
There is a terrible view, sometimes, that traditional people were not affected by colonialism. That's far from the truth. In fact, I think if any Indigenous culture survives today, and of course so much does, it is precisely because people like this great man valued culture above all else.
He took his ceremonial responsibilities as the highest priority and he regarded the survival of his own culture, and by extension other Indigenous cultures, as matters of the highest importance.
Because it is in our cultures that we find the values that make life worthwhile, make life worth living, and enable us to enjoy life.
And he did enjoy life. He had a wonderful life. It's such a tragic loss for everyone.
I met him in the late 1970s and we became very good friends and remained so throughout our lives. He was very curious, a great intellectual, and I believe he had a huge concern, not only for his family, but also the friends he made far and wide.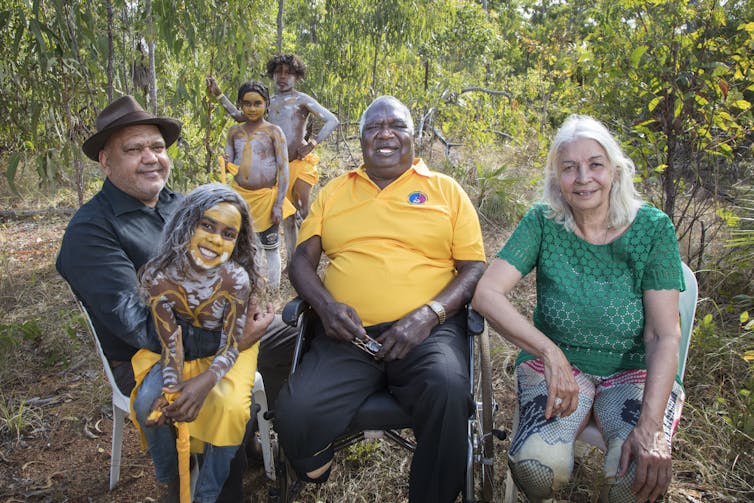 Hence, the popularity of the Garma Festival with so many people from Australia and around the world. He truly believed that we are all one people; we all have red blood running through our veins.
I wish Australian political leaders could have learned more from him, because Australia would be so much a better country if they had adopted some of his values. He certainly showed the way forward.
Url: https://theconversation.com/yunupinu-was-a-great-clan-leader-a-great-family-man-and-very-much-loved-i-wish-australian-political-leaders-could-have-learned-more-from-him-203160?utm_medium=email&utm_campaign=Latest%20from%20The%20Conversation%20for%20April%204%202023%20-%202589226039&utm_content=Latest%20from%20The%20Conversation%20for%20April%204%202023%20-%202589226039+CID_899ad94d5a6b41c2ef7f4f7cbfb02218&utm_source=campaign_monitor&utm_term=Yunupiu%20was%20a%20great%20clan%20leader%20a%20great%20family%20man%20and%20very%20much%20loved%20I%20wish%20Australian%20political%20leaders%20could%20have%20learned%20more%20from%20him
Artist: Dr G Yunupiŋu,
Category: Blog , Feature , Industry , News , OBIT ,
Tags: garma festival , Jeremy Eccles , Marcia Langton , Noel Pearson , Yunupiŋu ,